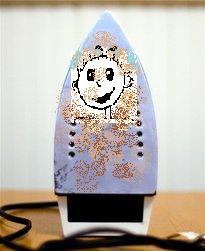 A 34-year old area homemaker Mitzi Zeldspark reported today that she claims to have seen the image of HASH BOY on the bottom of her iron.
Mrs. Zeldspark said that while ironing her 8-year old son Alvin's Cub Scout uniform slacks, she noticed that a distinct image of famous Hashing Comics icon HASH BOY was clearly visible on her 1993-model multi-setting steam iron. She believes that this is a sign that all will be right in the world and that it is an omen of good things to come in the new year.
When reached for comment at an ononon at a local pub, a steamed HASH BOY said he was "pressed for time" and that he found the woman's story to be "ironic" with "lots of wrinkles".